Investing apps are all the rage right now, but which one is best, how do they work? In this Stash App review we cover all the basics that you need to know before starting to invest. Stash offers a way for people to invest in stocks, funds and ETFs for as little as a dollar. Come check out our Stash review and see if it's the right platform for you.
What is Stash? (Stash App Review)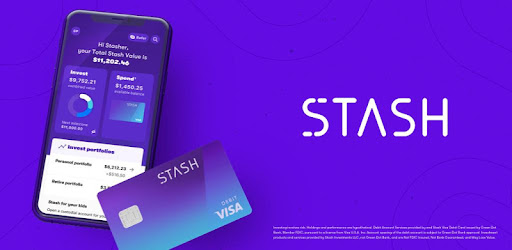 The Stash platform works similarly to robo-advisors in a way that anyone who's interested in investing can do so without having to go through a steep learning curve. We know how stock trading, investment and asset management isn't a walk in the park, but Stash somehow manages to make it very easy and accessible.
During our review of Stash, we noticed that at its core, Stash has a slew of stock offerings you can invest in. What's interesting is that you can invest in premium stocks without having to buy a whole share. For example, you can invest $10 in Apple shares through the use of fractional purchases. This unlocks and levels the whole playing field, since anyone can start investing in their favorite brands or the stock they prefer.
Stash is also an app you can download on your smartphone. You'll be able to look at your investments and complete actions even when you're at the office or on a vacation.
How Does the Stash App Work?
When we review Stash, it's important discuss how it works. Stash gives you granular control over which stock, fund or ETF you want. The first step is to download the Stash app, sign up for an account and answer a few questions. The app will determine your financial and investment goal and suggest several stocks and portfolios that could be in your alley.
Then, you can link a credit or debit card or a bank account to get investing. From there, you can pick from more than 3,800 stocks and 200 ETFs, which are organized in helpful categories such as sector, risk level and companies, among others.
Dig a bit deeper and you'll find several account offerings, such as IRA accounts, custodial, banking and of course, the investment accounts.
It's worthy to note that Stash has a subscription model, and the higher you pay the more features and benefits you can unlock.
Disclaimer: I receive affiliate compensation for some of the links in this post at NO cost to you. However, these are the best tools I have used and tested that I believe are most effective for launching and running an online business. You can read our full affiliate disclosure in our privacy policy. Also, I am not a licensed advisor, any information within this article is purely my opinion and not an endorsement of an investing strategy.
Stash Pros (Stash App Review)
Investing Made Accessible and Affordable
One of the main goals of Stash was to make stock investment accessible to the general public. Before, you had to have knowledge of how to trade in the stock market and hire a broker. Thanks to robo-advisors and micro-investment platforms such as Stash, anyone can join in and for as little as a few dollars invest in their favorite stocks.
Education as You Go Along
Investing in stocks and ETFs require at least a surface knowledge of the things you're putting your money in. Stash has a wealth of helpful guides and resources in its app that lets you do exactly that, and without making you sleep along the way.
Basic principles are covered right from the start, and the app manages to squeeze in important information so you can learn more about the industry. The content is simple and easy to understand and does a great job of educating the consumer.
Safe and Secure
The Stash app is 6 years old and has more than 5 million clients and users across the world. It's a registered investment adviser and FDIC-insured bank options. You can be sure your money is in safe hands when you put it in Stash.
Caters to Both Beginners and Veterans
Stash is easy enough for beginners to start investing, and has enough depth and features to make it a staple for veteran investors. The in-app calculator is a nice touch as it lets you tinker with your potential returns when you decide to add X money, for example.
Stash Cons (Stash App Review)
There's a Monthly Fee
In this Stash review, we can't just talk about the positives, we have to bring up the other side of the coin. Stash is not free, and when you sign up you'll be required to choose a subscription plan.
The lowest monthly fee is $1, which gives you access to a personal brokerage account, banking services and the Stash debit card. The highest is $9 a month, which unlocks a monthly insight report, two custodial accounts, a retirement account and more.
Not a Traditional Robo-Advisor
Stash isn't an automated trading app where you plunk down money and let it do its thing. You'll have to decide which funds, stocks or ETFs to invest in, and how much money you want to put in per stock or ETF.
Bonus Strategy

There are many investing apps out there in the market. The focus on this article was to a better understanding of just one. If you haven't had a chance to read others, my review on Acorns and Betterment have a similar tone. Please make sure you go back and read those. Personally, I enjoy my Acorns app and have had for quite some time. There is nothing that says you cannot have multiple investment accounts. I would encourage doing your own review of Stash and others. One of the best things to look for in any investing apps is the cost and the options to invest.
Before you go…
Utilizing these apps and trading stock options can be a very successful way to generate cash flow. The wealthy have seven streams of income from all four asset classes. One of the asset classes that I encourage everyone to start is their own business. For more on the asset classes, check out my other posts on Stock Market Investing. So, if you really want to find that financial freedom, you need to create a personal business that can become turn key to not only fund some of your real estate deals, but a business that makes money while you sleep. That is true financial freedom.
The program below offers a coach mentor on day one. It is the exact program I used to get started online. In addition, it walks you learn the process to get started in an online business. There is no inventory, this isn't e-commerce or drop shipping, this is digital marketing. It will also teach you how to build digital real estate along with your stock portfolio or really any investment portfolio

We show you EXACTLY how to build a business online and customize a plan just for you. We will help you choose a niche, setup your online business and help with selecting offers that you can promote.
On top of that you will get mentoring and coaching day one to make sure you are doing things right.
When we make more money, we can utilize those funds to invest more.
-Cameron